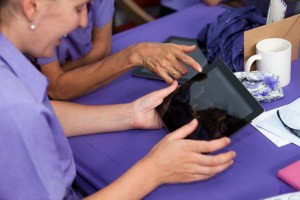 ABLE  was formed due to the demand for a responsive and integrated Allied Health service. Under the ABLE "umbrella" are ABLE Kids Therapy and Able Home Therapy. ABLE Kids Therapy provides skilled children's Occupational Therapy and Speech Therapy.  Our children's services provide a wide range of services especially for children 0- 14 years.
Our children can choose to come and visit us in the clinic at our North Lakes Clinic or in local schools or homes. Our North Lakes clinic is, 30 min north of Brisbane CBD.
ABLE Home Therapy assists those 15 years to adult who require the services of an Occupational Therapist or Physiotherapist  in the community.
Our home visiting OccupationalTherapists cover all areas north and south Brisbane from Beenleigh to Bribie Island and Caboolture. Each therapist looks after the clients in their area so that they can provide the personalized service we have become known for.
We have therapists with advanced training and qualifications.  An example of this is our Paediatric Occupational therapists, Speech Therapist and continence/lymphoedema therapist. Our therapists for adults are NDIS providers and our Paediatric team are registered with Betterstart and Helping Children with Autism.
Able welcomes and values the skills that only an experienced therapist can provide and encourages the mentoring role these clinicians can provide professionally to colleagues.
Professional development is encouraged and ongoing and we are happy to accommodate the needs of family, study and leisure. At ABLE  we recognize our best resource is our staff.
Dore Van Rensburg
Paediatric Occupational Therapist
Dore has a special interest in helping children with sensory processing difficulties. Before joining ABLE, Dore worked as a Paediatric Occupational therapist in the Ipswich area. Returning to North Brisbane to be closer to friends and family, she brings with her the latest in the treatment and management of children with ASD, Autism, Behavior, learning, developmental delay and Cerebral Palsy.
APHRA Registered Occupational Therapist
NDIS registered
Betterstart registered
Helping Children with Autism registered.
Medicare and Private Health registered
Able Therapy
Tracee Cunningham
Senior Speech Therapist
Tracee is our senior Speech Therapist. With almost 20 years experience in Speech Therapy. She is the founding Principal of " Go Get Speech" which joined ABLE Therapy in January 2017. Tracee adds value to ABLE Speech with experience as a registered Nurse ( Ireland) and recently a teacher( QLD). Tracee has specialized in speech therapy for children with schooling difficulties including ASD, ADD, Autism, Cerebral Palsy tongue tie and articulation problems.
• SPA registered Speech Therapy
• Betterstart registered therapist
• Registered teacher
• Medicare and Private Health fund registered
Able Therapy
Shannen Machen
Paediatric Occupational Therapist
Shannen our Occupational Therapist shares her skills between Montrose and ABLE OT. Triple P therapist ( Positive Parenting Program)Shannen has a broad interest in all areas of children's therapy including continence, self regulation, ASD,
• APHRA registered Occupational Therpist
• Betterstart registered therapist
• NDIS registered Occupational Therapist
• Medicare and Private Health fund registered.
Able Therapy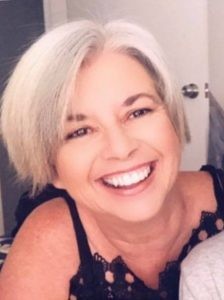 Wendy Gunn
Physiotherapist
Wendy is a Physiotherapist with many years of experience in treating children's developmental, neurological, continence (including bed wetting) difficulties and lymphoedema. Supporting the Occupational Therapists with ABLE Home Therapy her treating time is spent providing manual handling training for carers, NDIS pre plan assessments and equipment prescription for home and community use.
APHRA registered Physiotherapist
Pelvic Rehabilitation and Continence (Post-Graduate Studiets (Melbourne University)
Lymphoedema Therapist
Betterstart registered Physiotherpist
NDIS registered Physiotherapist
Medicare and Private Health insurance provider
Able Therapy
Mikaela Hayman
Speech Therapist
Mikaela joined ABLE Speech in January 2017. Originally from Rockhampton, Mikaela worked in Townsville prior to joining us to work with our children under 14. Mikaela is a popular therapist with school aged children and can treat children at local schools during school hours with before or after school appointments available in clinic
SPA registered Speech Therapy
Betterstart registered therapist
Medicare and Private Health fund registered.
NDIS registered Speech Therapist
Able Therapy
Jo Bennetts
Community Occupational Therapist
Jo the wife and mother of two children is the latest addition to ALBE Home Therapy. She is our key Occupational Therapist for the Bribie Island/ Caboolture/Burpengary area. Jo's area of interest is is working with our adult clients. Jo sees clients from 15 years old to 100. Registered to provide services to our NDIS, DVA and private clients, she is kept busy at present assisting disabled clients to prepare for their NDIS planning meeting.
NDIS registered Occupational Therapist
DVA registered therapist
Medicare and private health insurance registered.
APHRA registered Occupational Therapist
Able Therapy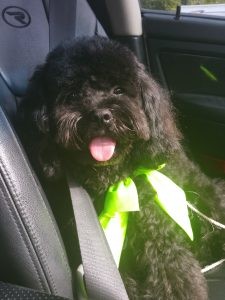 Nelson
Most popular team member
2 year old Nelson is a Cavoodle ( minature poodle/king charles spaniel cross) Nelson is hypoallergenic and eagerly looks forward to seeing his friends each day.
Nelson is learning new tricks and hates getting dressed up!
Able Therapy
Natasha Nawrocki
Community Occupational Therapist
Trained in New Zealand, Natasha provides Occupational Therapy support to our DVA clients in the Brisbane and South Brisbane areas for the ABLE Home Therapy branch of ABLE Therapy.
Able Therapy
Tracy McGruther
Office Manager / receptionist
Tracy is our customer service queen! (another one we stole fro NZ) Here she is with Kelly Ace one of our Senior OT Paediatric mentors
Able Therapy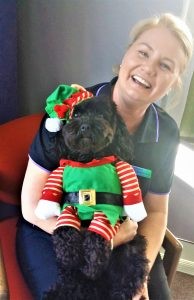 Annette Prezet (Jones)
Speech Therapist
Annette works with our adults and children as a Speech Therapist. Always ready for a good laugh, Annette has come to us from Northern Queensland where her last position prepared her well for the variety of conditions she sees at ABLE
Able Therapy